I am going to give intensedebate a try for my comments. This will give folks like you who read the blog the option to see who follows up on your input. It also adds interest to the commenting process aesthetically and statically. Go ahead and comment and we can see how this change will affect communications on Billy's Captures.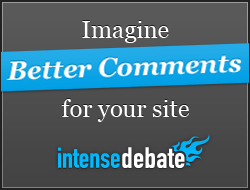 I would also like to take this opportunity to sing the praises of windows live writer in concert with blogger. It has really made the posting process more pleasing and streamlined. Happy blogging!
If everyone who reads this post comments even if it is nonsense it will really give me some insight as to how the new comment system will work! Thanks for reading.